1

Shiny and the Web

shiny (Chang et al. 2021) allows the development of web applications with R in minutes. Let's face it: this is quite mind blowing. While this may not be a production-ready app, it will still be a fully functional, working prototype. Believe me, doing a web application with pure HTML, CSS and JavaScript is more difficult, especially for someone with a non-web developer background.

We first load shiny:
1.1

Shiny generates HTML code from R

I propose to warm up with a little exercise:
Copy and paste this code to the R console and click enter.
What do you observe?
The output is HTML code. For an R developer, being able to generate HTML code from R allows the developer to remain focused on the main task instead of the web development burdens.
Most of the time, a production Shiny app requires custom elements that are not contained or hidden in Shiny's core.
Is a Shiny app less customizable than a classic web app? Not at all! Under the hood, Shiny has its own engine to build HTML tags, through R, meaning that all HTML elements are available. You may also include any custom JavaScript code and styles with CSS. In Chapter 2, we will shed the light on the underlying mechanisms that allow you to create HTML from R code.
Huumm … I feel you don't believe me … OK, fine … let me show you something!
1.2

Be a DJ

What you see below in Figure 1.1 is a Shiny app. Yes, I swear!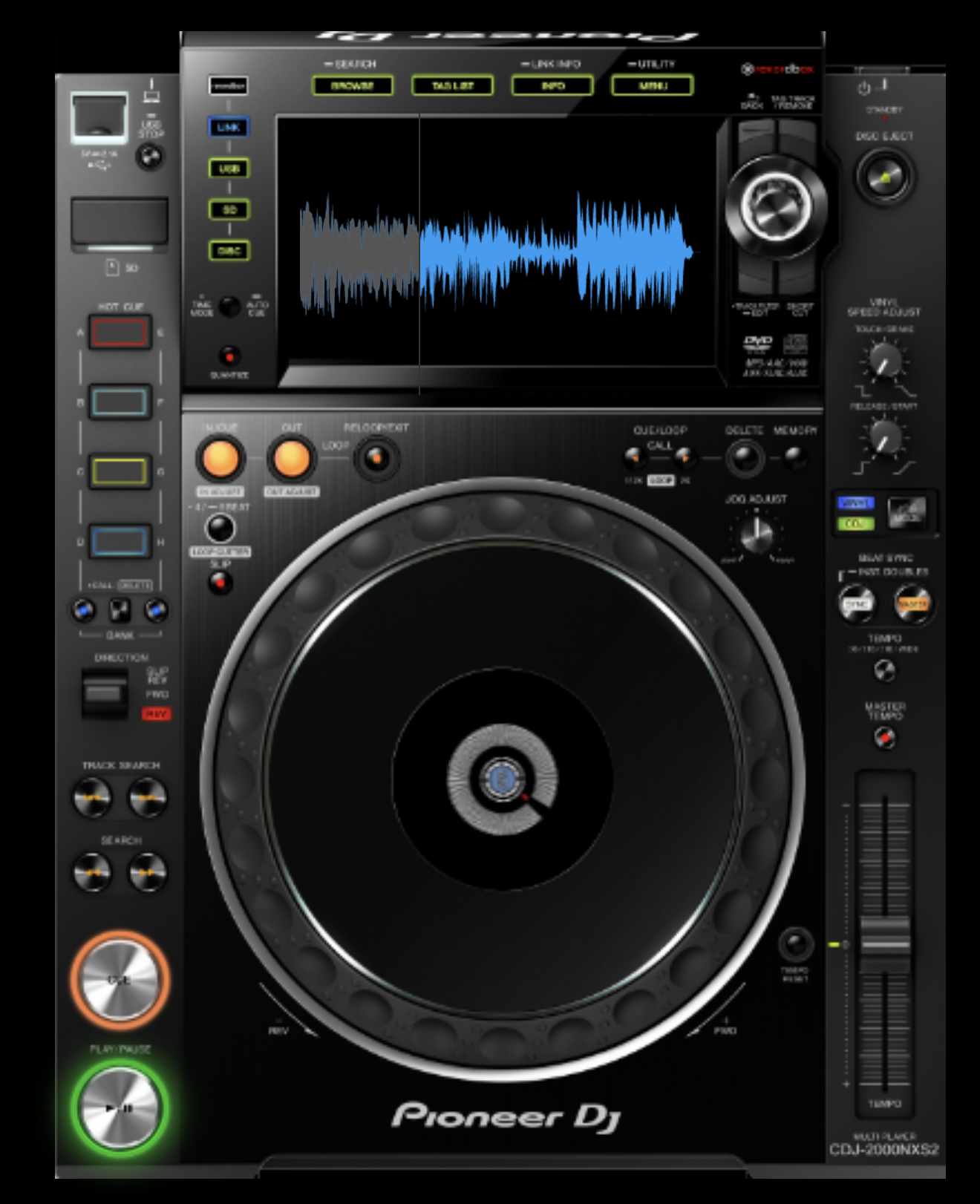 If you are still not convinced, have a look at the below demonstration.



### RUN ### 




# OSUICode::run_example( 




#  "intro/dj-system", 




#   package = "OSUICode" 




# ) 
Wait until the blue waveform appears on the player's screen. Then click on the green play button to stop and start the music (the space key is also supported). Besides, the waveform is interactive, thereby allowing you to browse through the current track. The rotating part (central part of the jog wheel) indicates the read position and other useful information.
What is this magic? Under the hood, this Shiny app only consists of:
111 lines of CSS.
29 lines of JavaScript code.
2 png images (dj gear + rotating wheel).
36 lines of R code, including the wavesurfer htmlWidget package to display the waveform.
Few custom HTML tags.
And is inspired by this article.
We must acknowledge it is still far from offering the same features as the original professional DJ gear, but it is a fairly good start!
As you noticed, you will have to acquire a bit of HTML, CSS and JS knowledge to reach the same level of result. Guess what? This is exactly the purpose of this book!
Are you ready to become a Shiny wizard?
1.3

HTML 101

This chapter provides a short introduction to the three main web languages, namely HTML, CSS and JavaScript. The following content is crucial to understand Chapter 2 about HTML generation from R.
1.4

Summary

As demonstrated above, developing a Shiny app is basically building a website from R and is completely compatible with the web languages, that is, HTML, CSS and JavaScript. In the next chapter, we'll discover how to manipulate HTML tags from R with the help of htmltools (Cheng, Sievert, et al. 2021), to seamlessly customize any existing Shiny element but also import any external HTML template.